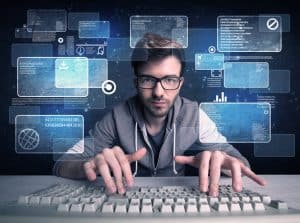 Did you hear the one about the New York Supreme Court judge who was duped out of a million dollars when buying a home? No, unfortunately this isn't the opening to a cheesy joke, but is a cautionary tale. Judge Lori Sattler became one of the thousands of real estate hacking victims when her money, all $1.2 million saved for her dream home, was wired to the closing "attorney" and was never seen again. Real Estate wire fraud is the greatest threat to our industry and one of the fastest growing crimes, causing nearly $1 billion in lost real estate proceeds in 2017 alone.
Hackers, scammers, fishers….they go by a lot of titles. Their techniques are diverse and creative, seeking the simplest yet most effective ways to steal your client's money and, along with it, dreams of a new home.
The most common is targeting those most vulnerable by:
Mimicking the real estate agent and/or real estate attorney's email by creating a nearly identical email address, then sending "new" wiring instructions to the buyer to send their funds.
Sending "phishing" emails to the realtor or law firm employees that prompt the recipient to open an attachment or web link which requires a password. Once that person attempts their common passwords, the hacker uses this to access their email and monitor real estate activity and correspond without the employee realizing before it's too late.
Why target real estate agents and law firms?  Unlike lending institutions, these professionals often don't have the same email security standards as regulated lenders do.  They are viewed as soft targets and are the primary point of phishing scams.  And unfortunately the issue isn't going away, it is only growing.  The FBI estimates there were 17 times MORE real estate hacking attempts in 2017 than in 2016.
So how can you protect yourself?  Experts advise a few keys to staying diligent:
Review all sender email addresses to confirm they are accurate.
Never accept wire instructions via email without calling the sender to verify they are accurate.Read back the information to them and have a verbal verification
Protect your email with encryption and up to date software.
Keeping the highest standards of those you work with.
Point 4 cannot be emphasized enough.  While you may take all precautions, if your real estate attorney and/or title agent isn't safeguarding their information, you and your clients are left vulnerable. The best way to do this?  Ask and confirm "Are you ALTA Best Practices Certified?"
ALTA (American Land Title Association) is the premier standard in title and settlement procedures and practices.  For a law firm to received a Best Practices Certification, they undergo a deep and rigorous audit of all processes, procedures, software and email security, training methods, and more.  As a company who underwent and received this Certification, Silva Law / QuickSilva can attest it is the most thorough and secure way to verify your law firm and title agency affiliates are safeguarding your client's money and interest in their new home. So, ask your preferred closing attorney / settlement provider if they are in fact ALTA Best Practices Certified and have peace of mind your client will not become another cautionary tale.
As we say at Silva Law / QuickSilva, "stay suspicious my friends".