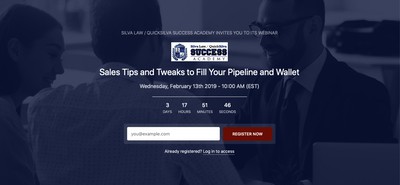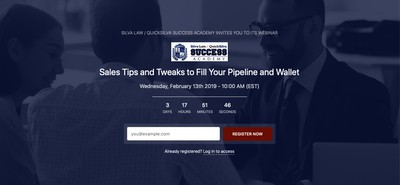 May webinar: How to Build Faster, Deeper, and More Profitable Relationships
Relationships are the foundation of all sales, especially in our industry. While our goal is to help people buy/sell homes and obtain loans so they can achieve their goals, it's the connection and relationships we build with clients and colleagues that ultimately determine our success. Register and view
April webinar: Get More Done
Whether you're in sales or a sales support position, the right habits will help you capitalize on the spring/summer market and current low interest rates. Join Doug Fleener, CEO of Silva Law / QuickSilva, for this exclusive program discussing habits and techniques that are proven to help you succeed more efficiently both professionally and personally.
Register and view
March webinar: Get More Referrals NOW!
Just in time for the spring market, this program will help realtors and loan officers immediately jump start or increase referrals. This webinar is a must attend event if you are not satisfied with your current level of referrals.
Register and view
February webinar: Sales Tips and Tweaks to Fill Your Pipeline and Wallet
In this informative and fast-paced sales-focused webinar you'll learn new sales actions and proven techniques that you can apply immediately to increase your referrals and close more sales.
Register and view
Who Should Attend
Realtors, loan officers, and anyone who wants to increase sales and referrals
Time Commitment
30 minutes- Watch whenever you want.