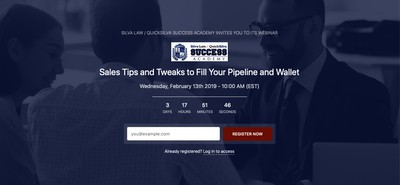 In our continuing Success Academy webinar series, join Silva Law / QuickSilva CEO Doug Fleener for the February webinar Sales Tips and Tweaks to Fill Your Pipeline and Wallet. In this informative and fast-paced sales-focused webinar you'll learn new sales actions and proven techniques that you can apply immediately to increase your referrals and close more sales.
Participants will learn:
Techniques to stand out to prospects and referral sources
How to guide conversations that turn prospects into clients
Two simple changes that can significantly increase the close rate
How to easily uncover and erase hidden obstacles to moving prospects and clients forward
Their hidden opportunity that will result in substantially more business
Who Should Attend
Realtors, loan officers, and anyone who wants to increase sales
Time Commitment
30 minutes
What If You Can't Attend?
No worries. Everyone who registers will receive a link to watch and listen to the replay